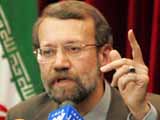 Iran's parliament ( Majlis) Speaker Ali Larijani, who is in Japan for a 5-day visit, in a meeting with his Japanese counterpart said Iran and Japan are two influential countries in Asia and Iran respect its relations with Japan.
In a meeting with his Japanese counterpart, Takahiro Yokomichi, Larijani said that the two countries of Iran and Japan have rich histories and cultures adding that developing ties between the two countries would be beneficial to both nations.
Expounding on Iran's peaceful nuclear policies, Larijani complained about dual behavior of a number of countries in this concern.
Japan House of Representative Speaker, by referring to the old ties between the two countries, said that the 80th anniversary of official relations between Iran and Japan was commemorated last year.
The meeting was held on Wednesday morning in the venue of House of Representative building.
The two sides underlined promotion of parliamentary ties and Larijani invited his Japanese counterpart to pay a visit to Iran.
/Irna/