Turkish and Nigerian businessmen met at "Trade Summit" in Abuja, capital city of Nigeria on Tuesday.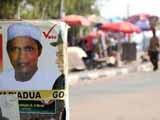 The "Trade Summit" was jointly organized by Young Industrialists & Businessmen Association of central Anatolia province of Kayseri and Nigerian Investment Promotion Commission (NIPC).
Nigeria's Minister of State for Power Nuhu Somo Way, addressing the opening of the summit, expressed pleasure over cooperation with the Turkish industrialists and businessmen.
Way eulogized underground and overland riches in Nigeria but complained about electricity shortage. "There are investment opportunities in energy in Nigeria. There may be cooperation in Hydroelectric power plants," he said.
Nigerian Investment Commission Chairman Mustafa Bello said necessary facilities will be given to entrepreneurs willing to invest in Nigeria.
/World Bulletin/