Key figure in the Al-Qaeda terrorist organization Ayman al-Zawahiri has accused Turkey of betraying the Islamic world and supporting Western countries in occupying Afghanistan.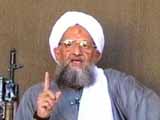 An audio recording of Al-Zawahri was posted on the terrorist organization's Web site in connection with a recent dispatch of Turkish soldiers to Afghanistan to train the Afghan army.
In late January, about 120 people suspected of involvement in the activities of Al-Qaeda's Turkish cell were detained in 16 provinces in Turkey.
As a result of raids and searches in suspects' homes, large quantities of weapons and explosives were found.
/Trend News/