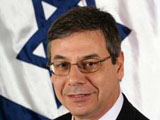 A major threat to world peace from Iran's obtaining nuclear weapons would be the kick off of a nuclear arms race in the Middle East, in which a number of countries including Turkey, Saudi Arabia and Egypt would seek nuclear weapons, the Israeli prime minister told his Greek counterpart at a meeting in Russia.
After meeting with Russian President Dmitry Medvedev, Prime Minister Benjamin Netanyahu unexpectedly bumped into Greek Prime Minister George Papandreou Monday at a Moscow restaurant and took the opportunity to continue the objective of his Russia trip: warning against the Iranian nuclear threat.
Netanyahu boasted about the "outstanding chemistry" during the meeting, according to Israeli media reports and said a nuclear region would eventually lead to the nuclearization of Turkey in an apparent attempt to prod the Greeks toward action on the Iranian issue. Netanyahu has repeatedly said during his Moscow visit one of the goals of the trip was to push the world toward taking "sanctions with teeth against Iran."
During their meeting, the two also spoke about economic issues, which Papandreou sought to speak with Netanyahu about from the outset. According to sources close to the prime minister, Papandreou, whose country is currently immersed in a deep economic recession, sought to draw upon Netanyahu's experience as finance minister, when he pulled Israel out of a recession at the beginning of the last decade, and as prime minister over the past year during the global financial crisis.
If there is a crisis, Netanyahu told his Greek counterpart, whether be it economic or nuclear, the international community must step in.
/Hurriyet Daily News/