Iranian Parliament's speaker Ali Larijani has met with Belarus Foreign Minister Sergei Martynov today. The cooperation prospects between the two countries were discussed at the meeting.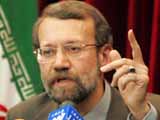 Larijani said drugs and terrorism are main dangers which threaten the region's future. "The major forces' actions in the region do not prevent terrorism and drugs, on the contrary they give an opportunity to increase these dangers", Larijani said.
Larijani added that the problems in the region can be solved through the countries' cooperation.
Belarus Foreign Minister Sergei Martynov arrived in Iran Feb.16.
/Trend News/