A member of Russia's Duma (Parliament) said here Wednesday that Tehran-Moscow cooperation positively affects the security in the region.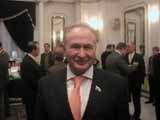 Hafiz Salihov, the Russian head of Iran-Russia parliamentary friendship group, told IRNA that bilateral cooperation would preserve stability in Caucasus, Central Asia and the Caspian Sea region.
Salihov said Iran and Russia which enjoy cordial relations have put the issues regarding the multi-polar world, resolution of regional conflicts, securing regional stablitiy as well as environment protection on their working agendas.
He described the Islamic Republic of Iran as a major state in the Middle East which finding solutions to Iraq and Afghanistan problems mostly depends on its position.
No one is able to damage Tehran-Moscow friendly ties, the Duma member stressed, adding that the two states should upgrade commercial transactions to six billion dollars per year from the current figure of about 3.7 billion dollars.
/Irna/