Turkey announced its budget deficit around 2 billion USD for January 2010.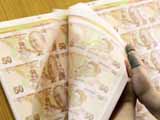 Turkey's Finance Ministry made public budget performances for January 2010, and said the budget deficit was 3.1 billion Turkish liras (TL) (2 billion USD).
The ministry announced budget expenditures around 22.6 billion TL (15 billion USD) and revenues around 19.5 billion TL (13 billion USD) for January.
The primary surplus was 2.9 billion TL (1.9 billion USD) in the same month.
/World Bulletin/