The Turkish and Libyan transportation ministers met in Ankara on Tuesday.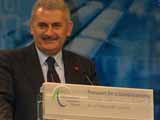 Turkey's Transportation Minister Binali Yildirim had a meeting with Muhammad Ali Zidane, the secretary of the General People's Committee of Libya for Communications, at his office in Ankara.
"We have decided to increase flights to Libya," Yildirim said during the meeting.
Yildirim said Turkish Airlines (THY) flights to Tripoli and Benghazi were not sufficient, and they therefore decided to increase flights.
Minister Yildirim accompanied Turkish Prime Minister Recep Tayyip Erdogan during his visit to Libya on November 23-25, 2009.
Yildirim said two countries signed a number of agreements, protocols and memoranda of understanding during Erdogan's visit, and one of the most important agreements was the removal of visa procedures.
"This decision will not only bring Turkey and Libya closer to each other from land and sea, but also a significant step that will boost trade, tourism and friendship," Yildirim said.
Turkey exported goods worth 1.6 billion USD to Libya in the first 11 months of 2009. This figure was only 255 million USD in 2003.
"This figure indicates more than six-folds of rise in exports," Yildirim said.
Yildirim said two countries agreed to raise their trade to 5 billion USD in the following two years, and to 10 billion USD in the following five years, during Erdogan's visit to Libya.
Investments of Turkish contractors in Libya were over 20 billion USD, Yildirim said.
Yildirim said Turkey and Libya were also discussing improving aviation and naval transportation.
Also speaking in the meeting, Zidane said Turkish companies had the "lion's share" in tenders opened in Libya since they had a high competitive power and since they were qualified.
/World Bulletin/