Israeli PM Benjamin Netanyahu, currently staying in Moscow with a visit, stated that data about his country's resumed arms supplies for Georgia to be wrong.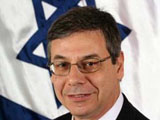 He noted that in the issue of arms supplies Israel always considers concerns of all countries and hopes Russia to do the same - to act in interest of stability in unstable regions.
Netanyahu said Israel considers interests and concerns of Russia, and asked Russia to do the same when it comes to security of Israel.
Previously mass media reported that Israel will send a large shipment of armaments to Georgia.
In Sept. 2008, Anna Azari, ambassador of Israel to Russia said that  the country stopped arms supplies for Georgia shortly before the August war upon Russia's request.
/Georgia Times/