A parliamentary call for the limitation of ties with Britain gains momentum in Iran as President Mahmoud Ahmadinejad pledges to give the move 'some serious thought'.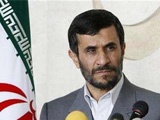 Ahmadinejad, responding to a question posed by a Press TV correspondent in a televised news conference on Tuesday, said the bossy and intrusive attitude of British officials in the wake of the June presidential election has left the country no choice but to limit the level of its relations with Britain.
Citing the recent interference of some British officials in Iran's internal affairs, Ahmadinejad said that the Iranian people have no willingness, or an incentive, to promote ties with the United Kingdom, particularly after what they have witnessed from the Downing Street echelon in recent months.
Ahmadinejad said Iran's relations with the UK will continue to spiral downwards until British officials discard the mindset they have been clinging to for more than 100 years.
Britain's dark track record in Iran could be traced back to 1813 and the Treaty of Gulistan. The treaty, which was put together by British diplomat Sir Gore Ouseley, forced Persia to concede its territory to Russia, a move that has been regarded in Iran as humiliating.
Then in the 1920s, British forces based in Iran under General Edmund Ironside secured the rise of fifty years of oppression in Iran after placing both Reza Shah Pahlavi and later his son Mohammed Reza on the Peacock throne.
But what really made Britain the bête noir of Iranian politics was the coup against the democratically-elected government of Mohammed Mossadeq in 1953.
Mossadeq sparked the outrage of the British government after he took revolutionary steps to nationalize the Anglo-Iranian Oil Company in which the British had a majority share.
In light of this, the British government joined their American counterparts and organized a coup, which eventually saw Mossadeq placed under a house-arrest while returning the unpopular Mohammad-Reza Pahlavi back to an absolute rule.
Following the 1979 Islamic Revolution, Britain became especially unpopular for series of policies, including the support it extended to Iraqi dictator Saddam Hussein in the eight-year war he imposed on the Iranian nation.
Also, Iranian people have never gotten over a British ruling that removed the terrorist Mujahedin Khalq Organization (MKO) from the UK terror list.
After the Iranian presidential election on June 12, British officials made a series of interfering comments regarding the country's internal affairs that drew sharp criticism from the Tehran government.
This has prompted the Iranian Parliament (Majlis) to introduce a resolution to reconsider ties with Britain. The bill has received widespread support both in the government and across the country.
/Press TV/