The first passenger train between Turkey and Iraq began serving tourists on Tuesday, February 16.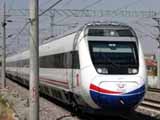 The passenger train began its trip in Mosul on Tuesday and will reach the southeastern Gaziantep Train Station on Wednesday.
In a written press release issued on Tuesday, Turkish Directorate General of Railways (TCDD) reminded that a Memorandum of Understanding was signed by the High Level Strategic Cooperation Council, comprised of officials from Turkey and Iraq, on October 15, 2009.
The trip from Mosul to Gaziantep and vice versa will take approximately 18 hours, including customs check ups and passport controls.
Seats in the passenger trains will cost between 25 and 35 euro.
Officials from both countries expect the passenger trains to boost economic, social and cultural ties.
The first passenger train en route to Mosul from Gaziantep will depart on Thursday, February 18.
/World Bulletin/