Turkish Foreign Minister Ahmet Davutoglu met with Iran's President Mahmoud Ahmadinejad in Tehran on Tuesday.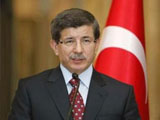 The meeting was closed to the press.
Davutoglu, who is on a one-day trip to Tehran, had earlier had meetings with Iranian Foreign Minister Manuchehr Mottaki, Parliament Speaker Ali Larijani and Secretary of Iran's Supreme National Security Council Saeed Jalili, who is also Iran's chief nuclear negotiator.
Davutoglu's meetings with Iranian officials focused on Iran's nuclear program and its nuclear talks with Western countries, diplomats said.
Davutoglu is expected to return to Turkey following his meeting with Ahmadinejad.
/Trend News/