Russian lawmakers will approve the document about the 200 anniversary of Russia and Abkhazia, which has been submitted by the ruling party United Russia.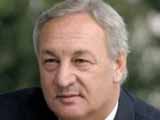 The document says that Russia supports the young republic and is prepared to help it in any sphere.
While the lawmakers are preparing to vote the document, Russian authorities are preparing to host the leader of Abkhaizan break-away regime Sergey Baghapsh.
He will arrive in Moscow today to sign a bilateral agreement with the Russian president Dmitry Medvedev regarding resumption of flights between Russia and the break-away region.
In addition, Baghapsh will also sign an agreement on Russian military base in Abkhazia during the visit.
/Georgian Times/