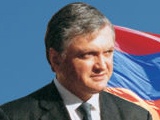 Armenia and Kazakhstan are tied with time-tested enduring friendship that deepens continually, said Armenian Foreign Minister Edward Nalbandian at a joint press conference with Kazakh Secretary of State and Foreign Minister Kanat Saudabayev in Yerevan.
According to him, both countries fruitfully cooperate within various international structures and hold similar stance on numerous global issues.
Armenian FM emphasized that Armenia backed Kazakhstan's candidacy in OSCE presidency and will hereafter assist Kanat Saudabayev in his OSCE initiatives.
"In particular, we support Kazakhstan's initiative on holding OSCE summit in the year end, as well as informal meetings of OSCE member-states' presidents," Nalbandian maintained.
Saudabayev thanked Armenia for assistance, outlining the necessity of holding OSCE summit.
"Last summit in Turkey was quite a while ago and a lot has changed in the world since then, new challenges, hot spots and issues emerged, that need to be addressed at the OSCE summit," Kazakh FM concluded.
/News.am/