The Iranian Parliament (Majlis) has urged the government to limit its trade volume with Britain to $500 million from the current $1 billion, an Iranian MP has said.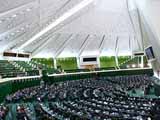 "Iranian MPs had decided to cut all relations with the UK, but the national security commission chose to apply more expertise concerning relations with Britain following advice given by the Parliament Speaker," Mohammad-Karim Abedi, a member of the parliamentary National Security and Foreign Policy Commission told Fars News Agency on Monday.
He added that unnecessary tobacco products constitute an important portion of British exports to Iran.
"Despite the decrease of tobacco products, they (the British) export around $270mn in cigarettes and other related products to Iran per year," he said, adding that such imports are not vital to Iran.
Abedi said that Iranian lawmakers are holding joint sessions with the foreign ministry to study the issue of reviewing relations between the two countries.
Earlier in January, head of the national commission Alaeddin Boroujerdi said the body is following up on downgrading relations with Britain in the cultural, commercial and economic fields.
On January 18, Iran's Foreign Minister Manouchehr Mottaki announced that Iran is considering limiting relations with the UK in some 12 different fields.
"After months of deliberation, the Tehran government has decided to limit its relations with Britain in various areas," Mottaki said.
Diplomatic relations between Iran and Britain have had many ups and downs in the years following the 1979 Islamic Revolution. The two countries first severed ties in 1989, shortly after the publication of the controversial book, The Satanic Verses, which sparked worldwide outrage.
In September 1990, Iran and Britain resumed ties at a lower level, which was gradually increased to an ambassadorial level in the ensuing years. The two countries eventually restored full diplomatic relations after a visit by Jack Straw, the then British foreign secretary, to Iran in 2001.
/Press TV/