Turkish State Minister Zafer Caglayan arrived in Athens, Greece on Tuesday.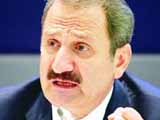 Caglayan, accompanied by a group of 220-people comprising businessmen, mayors and executives of Izmir Chamber of Commerce, will attend the 9th Turkish Aegean Coast-Greek Aegean Islands Economic Summit.
Caglayan met with Greek Deputy Foreign Minister Spiros Kuvelis. The meeting was closed to the press.
Caglayan is also expected to deliver a speech at the opening of "Turkish Fashion Break" fair scheduled to take place in Athens Hilton Hotel.
Caglayan will attend a meeting of the presidents of Turkish-Greek Chambers of Commerce and Greek Minister of Economy, Competitiveness, & Shipping Louka Katseli.
/World Bulletin/