A funeral service for the Georgian luger Nodar Kumaritashvili was held in Vancouver.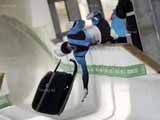 The service held in the Russian church of Vancouver was attended by a small group of Georgian sportsmen [only 6 of them remaining at the Olympics].
On Monday, after the service, organizers sent the coffin with the body to the airport to be delivered to Tbilisi.
Kumaritashvili died on Feb. 12 as a result of the accident in Whistler track, several hours before the opening of the Olympic Games.
While training he failed to take the final 270-degree turn at the speed of 145 km/h, was thrown out of the bobrun, hit the metal column, and died of injuries in a hospital near Whistler.
/Georgia Times/