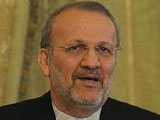 In recent days, Tehran has received several proposals on the uranium exchange, which Iran is ready to consider, Iranian Foreign Ministry Spokesman Ramin Mehmanparast said. He was commenting on the French Foreign Ministry's statements.
There has been no new offer to Iran by the international community regarding its nuclear program, the spokesman for the French foreign ministry said Monday.
Following Iran's decision to enrich uranium to 20-percent in the country, the U.S., Russia and France have submitted a joint proposal on uranium exchange to Iran. The issue is under investigation, Iranian Atomic Energy Organization Director Ali Akbar Salehi said earlier. "Iran may stop uranium enrichment if the country's conditions on uranium enrichment are fulfilled," he added.  
Iran's uranium enrichment to 20-percent is not contrary to proposals on purchase and exchange of fuel. If new proposals are consistent with the interests of Iran, the country would consider them, he said at the weekly news conference.
In October 2009, the International Atomic Energy Agency (IAEA) and "six international mediators on Iran" (Russia, USA, China, Britain, France and Germany) offered Tehran to exchange low-enriched uranium to high-enriched uranium. Iran has not rejected the proposal, but the parties failed to agree on an exchange of fuel.
The Iranian Fars news agency reported that in an interview with TV channel Al-Alam this morning,  Salehi confirmed receive from Russia, France and the U.S. proposals, which are currently studying by the Iranian side.
/Trend News/