Deputy Speaker of the Turkish Parliament Nevzat Pakdil said on Monday that Turkish society was saddened over the decision of the Canadian House of Commons regarding 1915 incidents.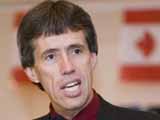 Speaking at a meeting with a Canadian delegation led by Maurice Vellacott, chairperson of Canada-Turkey Inter-parliamentary Friendship Group, Pakdil said Turkey did not cause such an incident.
"I think there is a lack of information here. Turkey will be pleased in case Canada extends support to a detente between Turkey and Armenia. Turkey favors that this issue should be dealt by the historians. Turkish executives had stated that all the documents and archives would be shared by everybody. Turkey wants to hope that our Canadian friends would act in line with the realities of history. Turkey is eager to approach the incidents equally and in a fair way. Application of dual standards on the matter is not acceptable," he said.
Pakdil said Canada and Turkey were friendly and ally countries in international organizations, indicating that they carried out activities with the U.N., OSCE and G-20.
Vellacott said Canada was pleased over the recent developments in Turkish-Armenian relations and expressed hope for further improvement.
Vellacott said efforts were underway to sign Free Trade Agreement between Turkey and Canada and noted that the agreement would be signed soon.
The delegation later visited Turkish Parliamentary Foreign Affairs Commission Chairman Murat Mercan.
/World Bulletin/