Armenian President Serzh Sargsyan has held a meeting with Queen Elizabeth II in London on Feb. 10.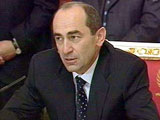 A charity concert "My love, Yerevan" was held at Windsor Castle on Feb. 10 the initiative of Prince Charles and the Armenian ex-premier, businessman Armen Sargsyan.
The funds to be raised at the concert will be directed to the renovation of four buildings in Yerevan.
Armenian President also met with David Miliband, British Secretary of State for Foreign and Commonwealth Affairs.
No detailed information is available.
/News.am/