Iran has told nuclear inspectors it will begin higher-grade uranium enrichment within days after preparations to do so carried out since Monday, according to a confidential U.N. memo.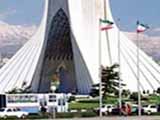 Tehran had announced on Tuesday that it begun refining uranium to 20 percent purity, but Wednesday's memo said: "We were told that it was expected the facility would begin to produce up to 20 percent (uranium) within a few days."
The memo from International Atomic Energy Agency chief Yukiya Amano said Iran had recalibrated 164 centrifuges, a small fraction of its thousands of enrichment machines, for higher-scale enrichment at its Natanz pilot plant.
Amano suggested he was concerned by a lack of advance notice about the move, which Western powers say will raise suspicions Iran is aiming to advance to the 90 percent threshold of enrichment suitable for atomic bombs, something it denies.
He said Iran notified the IAEA of the plan on Monday and the IAEA quickly asked Iran not to launch it before inspectors could adjust their monitoring procedures, as well as get clarification on the expected duration of the new programme and technical details.
"On Wednesday, when agency inspectors arrived at the pilot plant, they were informed that Iran had begun to feed the low-enriched uranium into one cascade (network of centrifuges the previous evening for (test) purposes," the memo said.
A senior diplomat familiar with IAEA operations told Reuters: "The agency should have been alerted earlier. It's an alarming trend that may only get worse. It looks like the confrontation (with the West) will be increasing."
Iran says the ramp-up of enrichment is meant only to yield fuel to keep a Tehran nuclear medicine reactor running.
Earlier on Wednesday, Iran's nuclear energy chief said it believed a nuclear fuel exchange with the West was still possible, a day after the Islamic Republic's move to escalate enrichment drew a U.S. warning of harsher sanctions soon.
Ali Akbar Salehi said if swap details could be agreed Iran would stop producing 20 percent pure uranium itself.
But he reiterated Iran's demand for a simultaneous fuel swap on its soil -- a likely non-starter for Western powers who want Tehran to send most of its low-enriched uranium, potential atom bomb material, abroad before it gets higher-grade fuel for a medical research reactor in return
/Reuters/