Tehran on Wednesday summoned the Canadian charge d'affaires to Iran after the country's former envoy admitted to having spied for the US against the Islamic Republic.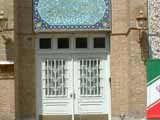 "The act of former Canadian envoy [Kenneth Taylor] is in violation of the Vienna Convention concerning diplomatic relations and, therefore, the Canadian government has to provide a clear explanation [to the Iranian government] on the issue," the Iranian Foreign Ministry said in a statement.
Canada's former ambassador to Tehran, Kenneth Taylor, earlier admitted to having actively spied for the Central Intelligence Agency (CIA) during the Islamic Revolution.
According to a report by The Globe and Mail, Taylor became the "de facto station chief" of the CIA in Tehran after Iranian students took control of the US embassy in Tehran on November 4, 1979, and took some 60 US citizens hostage.
According to the paper, then-US President Jimmy Carter and Canadian Prime Minister Joe Clark agreed in a secret meeting that Taylor would provide the CIA with intelligence from his position at the Canadian Embassy in Tehran.
He won praise in the US for sheltering six US Embassy staff and helping them return home on January 27, 1980.
/Press TV/