Turkey plans to invest about $12 billion over the next decade to build a high-speed railway network and shift more traffic to trains, a Turkish State Railways (TCDD) official said on Wednesday.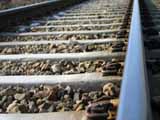 Railroads currently carry 3 percent of passenger and 5 percent of freight traffic in Turkey, said Muammer Kantarci, board director of the TCDD's vehicle-production unit Tuvasas.
"There is political will to change this negative picture with a multi-faceted approach, including high-speed transport, modernising the existing network, purchasing new locomotives or new electrification," Kantarci told a conference in Istanbul.
"The rise in population, economic growth and growing demand for freight require a change in the mode of transport."
Turkey opened its first high-speed railroad in March, a $4 billion electrified and signalled double line that links the capital Ankara to the western city of Eskisehir.
Construction of a further $1.27 billion high-speed link from Eskisehir to Istanbul has begun after a Chinese consortium won the tender, Kantarci said.
Since the link's opening, monthly passenger numbers between Ankara and Istanbul have climbed about 40 percent, Kantarci said.
The Ankara to Eskisehir train travels at a maximum 250 kilometres per hour (155 miles per hour) on its 245 kilometres journey.
"A total 2,297 kilometre of high-speed rail projects are planned. This is an investment of $10.4 billion," Kantarci said. With this, there will be 74 high-speed vehicles, so the high-speed investment by 2010 is seen at almost $12 billion."
A $750 million, 212 kilometre high-speed link between Ankara and the city of Konya is scheduled to open this year, Kantarci told the conference. Turkey is also building a $1.6 billion high-speed link between Ankara and the city of Sivas, 480 kilometres to the east, he said.
It also plans links between Istanbul and Edirne, near the Bulgarian and Greek borders; Ankara and Izmir on the Aegean coast; and the industrial hub of Bursa with the nearby town of Osmaneli, Kantarci said.
/World Bulletin/