Georgia's state commission for coordination of integration into NATO endorsed the Annual National Program of cooperation with NATO [ANP] for 2010.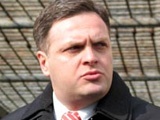 According to Vice PM Giorgi Baramidze, the State Minister for European and Atlantic Integration, the chairman of the sitting, the ANP was endorsed with consideration of recommendations and remarks given at the preliminary consideration of the document at Georgia-NATO commission in January 2010 in Brussels.
"For the second year Georgia has been implementing the annual national program. According to NATO assessments, in 2009 the country successfully completed the program, therefore in 2010 we will set more tasks for ourselves from defense and security to reinforcement of democratic institutions," Baramidze said.
He added that special attention from both NATO and the EU will be drawn to elections of May 2010.
ANP 2010 for Georgia implies continuation of reforms in democracy development, spheres of defense and security, economic development, science, environment protection and other fields.
The government of Georgia will present the endorsed document to the North Atlantic Council to be summoned in March 2010 in the framework of Georgia-NATO commission.
/Georgia Times/