In 2009, total amount of private remittances to Armenia reduced by 30.6 percent compared to 2008, making $1.576 bn.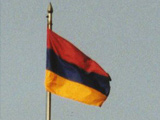 Personal remittances from Russia made $950m which is 35 percent less as compared to 2008 ($1.462 bn).
The amount of bank transfers from Armenia totaled $752m (33 percent less than in 2008), Armenian Central Bank bulletin reads.
Within last year, Armenians received 60 percent of transfers from Russia, while 7.3 percent – from the U.S.
/News.am/