Turkish State Minister for foreign trade Zafer Caglayan met with Turkey's commercial attaches serving in Europe on Wednesday.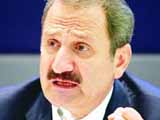 Caglayan told attaches, who gathered in Paris, that Turkey needed a new commercial strategy for its trade with Europe, and he called on 31 Turkish representatives to shape this strategy together.
"We have no chance to lose European market to which we make more than half of our exports," Caglayan said.
Nearly 70 percent of the fall in Turkey's exports were seen in shipments to European market, Caglayan said, adding that exports to Russia and Germany contracted 3 billion USD and exports to Britain went down 2 billion USD in 2009.
Eight out of ten countries, to which Turkey's exports dropped more than 1 billion USD last year, were European nations.
Caglayan also said Turkish government would have a discussion on the outlook of Turkey's foreign trade at a cabinet meeting next week.
Meanwhile, prior to his meeting with commercial attaches, Caglayan had a meeting with French Minister of Economy, Industry & Employment Christine Lagarde.
/World Bulletin/