Visiting Spanish businessmen will hold meetings with Georgian businessmen on Feb. 10.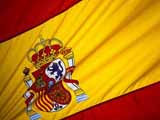 The visit aims to establish contacts with each other and deepen relations.
Spanish businessmen in frames of three-day visit held meetings with government officials.
They were introduced with the investment potential, taxes and an economic environment.
The visit of Spanish businessmen is organized by the Spanish embassy.
The delegation consists of businessmen working in areas of infrastructure, environment, building, energy and other areas.
/GHN/