The Foundation for Human Rights & Freedoms & Humanitarian Relief (IHH) is continuing to help people in Haiti which was hit by a severe earthquake.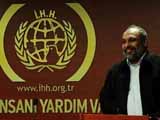 Foundation's Chairman Bulent Yildirim said on Wednesday that they delivered 70 tons of foodstuff, and also tents to ten families.
Noting that they set up five large tents for health care, Yildirim said that three volunteer doctors treated 2,000 patients within ten days.
We are planning to send more doctors to Haiti in coming days, he added.
Yildirim said that they were providing meal for 2,000 people three times a day.
Yildirim added that the foundation aimed to bring 150 orphan children from Haiti to Turkey, and take care of them. "We are waiting for Haitian government's permit to exit children from the country," he noted.
A group of concerned people individually formed IHH in response to attempt to "ethnic cleansing" of Serbs in Bosnia, largest genocide committed after the World War II.
Since then, IHH volunteers keeps aid missions throughout the world.
A magnitude-7 quake devastated Haiti on January 14. It was the most powerful quake recorded in the last two centuries.
/World Bulletin/