Turkey's foreign minister said on Tuesday that the letter sent by Serzh Sargsian to his Turkish counterpart Gul was a routine message sent by leaders while flying over Turkish territory.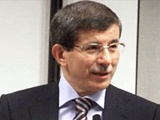 Armenian President Serzh Sargsyan said that it was time for progress in the Turkey-Armenia rapprochement and establishment of a region of stability for future generations, in a plea to his Turkish counterpart Abdullah Gul.
As his plane made way through the Turkish air space en route England, Sargsyan told Russian Itar-Tass that foreign mediation in efforts to normalise relations between the two countries was useful, noting however that it should not be overplayed.
"The leaders of the two countries are playing a very significant role in promoting the atmosphere of mutual understanding among peoples of Turkey and Armenia, and overcoming the cliches in the relations of the two countries," said Sargsyan.
Sargsyan said the faith and principled stance of himself and his colleague Gul would lead to success in the rapprochement process.
Replying to questions at a press conference, Turkish Foreign Minister Ahmet Davutoglu confirmed that Armenian President Sargsian sent a routine letter to Turkish President Abdullah Gul and added, "Mr. Sargsian has expressed his positive wishes in his message".
/World Bulletin/