Turkish President Abdullah Gul said Turkey has been conducting silent diplomacy for a couple of weeks to ease tension due to Iran's stepping up uranium enrichment.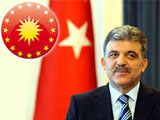 President Gul had a chat with Turkish journalists who cover his visit to India.
In regard to his talks in New Delhi, Gul said his talks were fruitful and the two countries were resolute to boost ties.
Turkey and India attached a great importance to stability and security, he said.
Replying to questions on Iran's uranium enrichment efforts, Gul said Turkey has been conducting a silent diplomacy and it would keep exerting efforts on the matter to ease tension.
Answering another question, Gul said India appreciated Turkey's constructive role in its foreign policy and Turkey could contribute to solution of problems between India and Pakistan.
"There has been a great transformation in Indian economy. Turkish businessmen are excited about great investment projects in this country," he said.
In regard to Turkey's EU accession process, Gul said while Turkey has been conducting its membership negotiation talks with the EU, it enhanced ties with its neighbors, the Middle East, Russia and Asia.
Turkey's president also met with a group of Turkish citizens living in India and several Indian politicians in New Delhi on Tuesday.
Gul got together with Turkish citizens at his hotel in the Indian capital and listened to their problems.
The first Indian-Turkish dictionary was also promoted during the gathering.
Later in the day, Gul received Indian Vice President Hamid Ansari and leaders of India's ruling and opposition parties.
Gul's meetings with Indian politicians were closed to press.
/World Bulletin/