Advisers to Iran's Opposition Leader Mir Hussein Mousavi, Alireza Behisti and Mohammadreza Tajik, were released.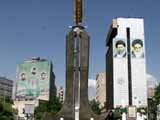 The Tehran revolutionary court' reported that the investigation on cases on Alireza Behisti and Mohammadreza Tajik has been completed and they were released upon the investigator's order and the prosecutor's official permission last night.
It was also noted that everybody, whose investigation completed, will be released.
Opposition supporters and police clashed on Ashura Day Dec. 27 in Tehran.
According to international news agencies, the riots resulted in the deaths of 15 people. Police arrested 550 people. According to the official information, the clashes killed eight people, including one woman, and 300 people arrested. The relevant agencies publicized their names.
/Trend News/