Four people were killed and another person was missing in Turkey after floods and severe storms swept through its Mediterranean coastal region.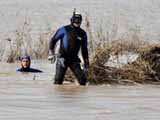 Two of the victims drowned late on Monday in their cars after a motorway was flooded in Antalya province, one of Turkey's top tourist destinations.
A third person died in a flash flood after heavy snow melt from the Taurus mountain range in Antalya forced a river over its banks, it said. Another man was killed after he was struck by lightening.
Torrential rains, which began on Sunday, led to the flooding of homes and farms, toppled bridges and wiped out parts of motorways. Winds reached speeds of 96 kilometres per hour (60 miles per hour), according to Anatolian.
Coast guard helicopters rescued 46 migrant farm workers near the town of Manavgat after floods stranded them in their tent city, it also said.
/World Bulletin/