US State Department spokesman P.J. Crowley has announced that the international community is willing to help Iran procure medical radioisotopes from foreign countries.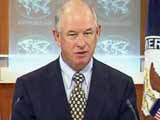 Crowley said he hoped the offer would help to "build some confidence."
The proposal is also meant to show that Iran's plan to enrich uranium to 20-percent purity for a reactor making radioisotopes for cancer patients is "unnecessary," he added.
On Tuesday, Iran began enrichment of uranium to the 20-percent level required for the fuel for the Tehran Research Reactor, which produces radioisotopes for the treatment of cancer patients.
On the same day, Iranian Foreign Ministry spokesman Ramin Mehman-Parast said, "Iran tailors its enrichment program to meet its needs, and if the International Atomic Energy Agency supplies 20-percent enriched nuclear fuel to Iran, it could focus only on the production of 3.5-percent enriched uranium."
/Press TV/