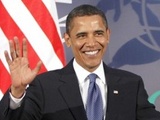 US President Barack Obama said the United States is developing a "significant regime of sanctions" against Iran, shortly after Tehran announced its decision to start enriching uranium to a level of 20 percent.
Obama stated that Iran appears to have spurned his offer of engagement.
He also accused Iran of pursuing a nuclear program that would lead to nuclear weapons.
"They have made their choice so far, although the door is still open," AP quoted Obama as telling reporters at the White House on Tuesday.
Obama added that the UN Security Council is moving quickly to broaden the economic sanctions imposed on Iran.
On Tuesday, Iran began enriching uranium to a level of 20 percent at its Natanz enrichment facility.
On Tuesday, Iranian Foreign Ministry spokesman Ramin Mehman-Parast said that 850,000 patients in Iran depend on radioisotopes produced by the Tehran Research Reactor.
/Press TV/