Turkey's Foreign Minister Ahmet Davutoglu is paying an unscheduled visit to Tehran late on Tuesday to hold talks with Iranian authorities regarding escalating crisis on Iran's nuclear programme.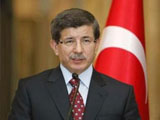 The visit comes after the United States insists the U.N. Security Council approves a resolution on Iran within weeks, not months over its nuclear programme, according to the Pentagon.
U.S. Defense Secretary Robert Gates spoke to leaders in Turkey, Italy and France about the "urgent need" to move forward on sanctions as soon as possible, Pentagon press secretary Geoff Morrell told reporters.
Iran began work on Tuesday to produce higher-grade nuclear fuel for a Tehran research reactor, an official said. It aims to produce uranium enriched to a level of 20 percent for a reactor making medical isotopes.
Holding a press conference following his meeting with Thorbjorn Jagland, the secretary general of the Council of Europe (COE), in Ankara, Davutoglu said that he would go to Iran after this country announced it started enriching uranium to 20 percent today.
Regarding Iran's enrichment of uranium, Davutoglu said that he was not pessimistic about the issue, and believed there was still a common ground.
Davutoglu said that he talked with Iranian foreign minister on the phone this morning about the issue, adding that he wanted to meet with Iranian president, foreign minister and other officials.
/World Bulletin/