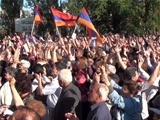 "At this time, we have planned a rally for March 1; there aren't any changes yet," first president of the Republic of Armenia Levon Ter-Petrossian's press spokesperson Arman Musinyan said.
Earlier, he had said an additional Armenian National Congress (ANC) rally prior to March 1 was possible depending on recent developments.
The last ANC rally was held on Jan. 8.
During that time, first Armenian president and ANC leader, Levon Ter-Petrossian, addressing the crowd, said that they were going to come across a "stronger anti-state rally," which was going to take place on March 1.
The ANC leader promised to appear with a clearer, "comprehensive political plan, which can't not have an influence during this entire year."
/Tert.am/