One person was reported dead and another missing in floods that hit a province in Turkey's Mediterranean region on Monday.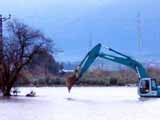 Mustafa Dolapcı, 51, who climbed a tree to avoid floods triggered by torrential rains in Antalya, was reported missing, eyewitnesses told the Anatolia news agency.
The Associated Press reported that one person had been killed but gave no further details.
Teams rescued 30-year-old Ali Rıza Türktaş, who also left his car and climbed a tree on the Antalya-Manavgat highway, which was closed to traffic after three brooks overflowed.
Helicopters rescued 17 people, including six children, who were living in the same Abdurrahman Paşa region.
Torrential rains also flooded homes, agricultural fields and greenhouses, and killed farm animals in Antalya's Aksu town and other villages.
/Hurriyet Daily News/