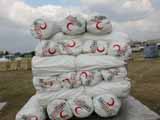 Turkey sent on Tuesday medical assistance to quake-hit Haiti.
Turkey sent not only medical materials and medicines but also a health team including doctors to heal wounds of quake survivors in Haiti.
Turkey has also set up a mobile hospital and sent ambulance to Haiti.
Thousands of people were killed and thousands of others were left homeless and destitute when a magnitude-7 quake devastated Haiti on January 14. It was the most powerful quake recorded in the last two centuries.
/World Bulletin/
Click photos to enlarge: