President Abdullah Gül urged his Russian counterpart Dmitry Medvedev to push for a settlement of the Nagorno-Karabakh conflict between Azerbaijan and Armenia during a phone conversation on Saturday.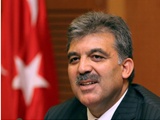 According to diplomatic sources, Gül also expressed Ankara's feeling of unease with the Armenian Constitutional Court ruling containing preconditions and restrictive provisions on the normalization protocols between Armenia and Turkey. Gül urged Medvedev to play a 'more active role' with Yerevan in order to keep the normalization process on track.
"We hope no one wants to risk the protocols. Peace and stability in the Caucasus is desirable for everyone," Gül said.  "We need a clarification as to whether the court ruling will shadow or restrict the protocols."
Medvedev in reply said, "We appreciate Turkey's peace efforts for the Caucasus. We closely follow the parties [Azerbaijan and Armenia]. No one has the right to derail the protocols." The Russian President promised to be in close touch with Yerevan and continue pushing the normalization efforts.
Having discussed the main common interests and cooperation opportunities, Medvedev confirmed his upcoming visit was set for the second week of May when he will co-chair the first meeting of the bilateral cooperation council.
The Russian Embassy to Ankara in a written-statement said, "This visit will play a key role for Turkish-Russian relations in the future."
/Huriyyet Daily News/