Iran's Intelligence Ministry said Wednesday it has found evidence that German diplomats played a role in last month's "anti-revolution riots" in Tehran.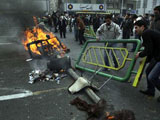 "Anti-Islamic Revolution agents, networks backed by Western intelligence services" and those who seek to promote sedition in the country had planned the Ashura riots in advance, the Iranian Students News Agency quoted a deputy intelligence minister as saying.
The anti-governemtn protests on December 27 coincided with Ashura mourning ceremonies.
Public property was damaged during the riots and security forces clashed with protesters as they attempted to establish order.
The intelligence official also said an advisor to the defeated presidential candidate Mir-Hossein Mousavi had also been arrested.
"Based on documents obtained from this person, he transferred confidential information to foreign countries through the ringleader of intelligence services of a European country," the official said.
The German Embassy in Tehran has not yet commented on the allegations.
/Press TV/