Georgian Apostolic Orthodox Church marks the day of Saint Nino on June 1.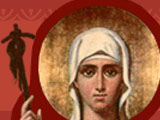 The preachment of Christianity turned out fruitful in his life and the King of Kartli, Mirian declared it as the state religion of the nation on 326 AD.
Georgian Church marks the Day of Saint Nino twice a year. On June 1 the day, she stepped on Georgian land and on January 27, the day the Saint passed away.
According to data, in the fourth century, Saint Nino stepped on Georgian land and preached Christianity to Georgian people.
Since then Georgian nationality has always been related with Orthodox Christianity.
Holy service will be conducted at every Orthodox Church in Georgia. Patriarch of All Georgia will conduct service at the Saint Trinity Patriarchal Temple.
People who go to the Trinity Cathedral will be able to worship the Saint Nino Holy Cross, which was taken from the Sioni Cathedral to Sameba late last night.
The Cross will be returned to Sioni Church after the holiday.
/Georgian Times/