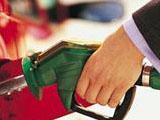 "I'm paying almost 2 GEL per litre for petrol. So don't grumble about more people standing up on here," a middle-aged, bearded driver announced as he stuffed his Marshrutka with more passengers.
Such worries were widespread last week as prices ran wild in major petrol stations selling European fuel. Oil prices in retail gas stations hiked 10 tetri per litre on average last week and put major importers on the defensive.
"The rise was caused by two major factors: the weaker Georgian Lari and rising prices on the international markets," Gia Kotrikadze, the Chairman of the Union of Fuel and Gas Importers, told GT. The national currency had dipped to 1.70 against American dollar the previous week. Oil prices reached a 15-month high of $83.18 a barrel on Jan. 6. Eventually they started to ebb slightly, and stood at 75 USD a barrel on January 23, but Georgian importers were slow to react.
Super and Premium grade petrol was selling at 1.95 GEL and 1.90 GEL per litre respectively in Wissol and LukOil stations last week. Another big player, Rompetrol, was selling Euro Super at 1.90 and Efix Euro Premium at 1.80.
According to the Ministry of Internal Affairs there were around 525,000 cars in Georgia in 2009. More than 23 percent of Georgians own a private car, an annual survey by the Caucasus Resource Research Centre (CRRC) has stated.
Georgian consumers complain that such a sharp hike in domestic prices is inappropriate. "When the oil price reached a record high of over 140 USD a barrel in July 2008, Georgian importers were selling Euro regular at 1.95 GEL. I know that the Georgian lari was worth around 1.40 USD at that time but simple calculations suggest that the oil importers are overcharging," says Dato Chaganashvili, 35, who is worrying about his monthly budgets.
Vano Mtvralashvili, Head of the Union of Oil Product Retailers, Consumers and Importers, says that there is still an option for low-income motorists, as prices only increased at the stations of big chains which import fuel from Europe. "These big importers have 70 percent of the fuel market in Georgia. But there are other gas stations which are not brand names who are still selling petrol at a lower price."
"Regular' grade petrol is mostly imported from Azerbaijan, with SOCAR the key importer. It wholesales at 1.59 GEL. "The companies were going to increase prices in the retail chains earlier but they apparently did not want to do it on Christmas Eve," SOCAR's Oil Products Manager Rezo Khukhashvili was quoted by the Rezonansi newspaper as saying. He said that the price of petrol is based on the average figure of international oil prices of the last 14 days.
But some Georgian economic analysts are sceptical, saying that the big oil companies make deals and set the price artificially. Dr. David Narmania, Director of the Caucasus Institute for Economic and Social Research, is among these.
/Georgian TImes/