European Union foreign ministers have announced that they will not clamp new sanctions against Iran unless the UN Security Council calls for the measure.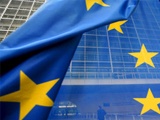 During a meeting in Brussels on Monday, the EU foreign ministers spent considerable time discussing Iran's nuclear program, saying they would back any decisions concerning sanctions against Iran if they received support from the world's major powers.
The move seems to be a sign of backing away from tightening restrictions against Iran as the European Council last week called for finely tooled sanctions against the country.
"The sanction instrument is a very blunt one, so it should be used with extreme care," Swedish Foreign Minister Carl Bildt said upon arrival at the meeting.
"Our aim is to get the Iranians to the negotiating table and have a political solution, and if there are any sanctions which can reinforce that possibility, I'm ready to look at them," Bildt said.
"With Iran, (sanctions) will work out only if all the UN Security Council permanent members agree. ... The EU is ready to do it, but to get really functioning sanctions, we need all the big players in the world to be united behind this decision," said Estonian Foreign Minister Urmas Paet.
Iranian Parliament Speaker Ali Larijani said on Saturday that a comprehensive and optimal solution to the Iranian nuclear issue could be worked out provided that the West, and the United States in particular, negotiate "sincerely" in the talks with the Islamic Republic.
/Press TV/