On Jan. 25, U.S. ex-Congressmen held a number of meetings in Georgian Parliament.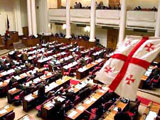 After the meeting with deputy Speaker Rusudan Kervalishvili they met with representatives of parliamentary majority.
After the meeting it was noted that the sides had discussed issues of security and cooperation of Georgia and NATO.
Ex-Congressmen promised Georgia support in these aspects and in the process of NATO integration. They thanked the country for participation in international peacemaking operation in Iraq and Afghanistan.
Georgian MPs spoke about situation in human rights sphere and reforms being conducted in the country.
At a meeting with chairman and members of the parliamentary Committee for Budget and Finance American politicians discussed economic situation in Georgia, aspects of integration in NATO, increase in defense capacity.
According to Zurab Melikishvili, chairman of Budget and Finance Committee, the guests were impressed by Georgia's success reached in a short term, but they had some remarks as well.
They noted that separation of legislative and executive power is obligatory, as well as stricter parliamentary control over the government's activities.
/Georgia Times/