State-owned Indian Oil Corp. is asking the government in New Delhi to back a proposal to purchase at least a 20 percent interest in Iran's South Pars gas field.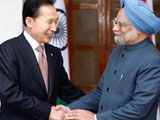 IOC along with Petronet LNG and the Hindujas group moved on broad agreements to develop liquefied natural gas projects with Iranian authorities in December.
Iran said it would supply India with LNG on a long-term basis. Iran offered the group a 40-percent stake in South Pars and a-20 percent stake in an LNG terminal.
Sarthak Behuria, the chairman of the IOC, said his company has been pursuing LNG deals with Iran "for a number of years," the Economic Times of India reports.
Meanwhile, the Indian government ordered national energy companies to double their domestic gas production during the next five years.
A final agreement between Iran and India is expected by March.
/ILNA/