Armenia will return to a stage of steady economic development this year, Armenian Minister of Finance Tigran Davtyan told a press conference.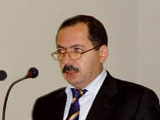 A program budgeting system will be implemented this year.
"The macroeconomic indicators for 2009 will soon be published and show that the Government's actions, namely, involving additional funds and crediting economy, have produced results," Davtyan said.
The procurement system will be reformed as well.
/News.am/