The Armenian Statistical Service reported a 14.4-percent decline in the gross domestic product in Armenia in 2009.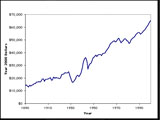 Also, industrial output decreased by 7.8 percent, electric energy output by 7.2 percent, gross agricultural output by 0.1 percent, construction volume by 36.4 percent and foreign trade by 27 percent.
Exports experienced an annual decrease of 34 percent and imports by 25.3 percent.
Retail trade showed one-percent increase and the services sector -a 1.3-percent increase.
/News.am/