Turkish State Minister Zafer Caglayan met Monday with Dubai's Emir Sheikh Mohammad Rashid bin al-Maktoum.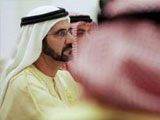 During the private meeting at Sheikh al-Maktoum's palace which lasted half an hour, Caglayan communicated Turkish Premier Recep Tayyip Erdogan's message.
Caglayan who arrived in United Arab Emirates earlier on Monday, will meet Abu Dhabi's Emir Khalifa bin Zayed al-Nahyan on Tuesday.
State Minister Caglayan will have talks with several ministers of United Arab Emirates and Turkish businessmen in Dubai during his visit.
/World Bulletin/