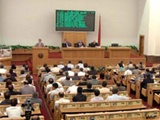 The offices of the ruling Republican Party of Armenia (RPA) are working in favor of Ara Simonyan, a parliamentary candidate nominated by the National Unity Party, the representatives of the Armenian National Congress (ANC) Levon Zurabyan, Vladimir Karapetyan and David Matevosyan, who is also head of Nikol Pashinyan's election campaign office, told a press conference on December 28.
According to them, Yerevan Mayor Gagik Beglaryan is the mastermind behind the violations in the election campaign and the planned election rigging on Jan. 10.
The ANC members are sure that it is the RPA member Ruben Sandoyan who is the mastermind behind yesterday's attack on opposition members.
Nikol Pahsinyan knew about the incident from a radio broadcast.
He addressed the young people and called on them not to lose courage.
On Dec. 27, ANC activists were canvassing in Election District #10.
A group of people approached them and demanded that they stop canvassing.
They attacked the ANC members and the ANC Central Office representative Vladimir Karapetyan.
Six of the ANC activists received bodily injuries.
Policemen, who arrived at the scene only 40 minutes later, tired to get information from the victims.
But, being unable to speak and write for long, they only filed a complaint.
/News.am/