Police commander Azizollah Rajabzadeh said the death of Mousavi's nephew is under investigation and the result will be announced soon.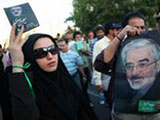 Tehran police said in a statement that 5 people died in a mysterious way during Ashura Sunday and the experts investigating the suspected elements in the incident.
Earlier, Iran's deputy police Chief Ahmad-Reza Radan confirmed that five people were killed in the protests in the capital.
The death toll from Iran's Saturday anti-government protests in Iran has reached to eight people, Press TV reported.
An informed source told Press TV that eight people lost their lives during the Saturday unrest.
Press TV added according to the country's Supreme National Security Council the death toll from anti-government protests in Tehran has risen to eight.
/ILNA/